NOTE:
Use the search function.
A LOT of your frequently asked questions have been answered... numerous times.
Use the search function before you make a post about:
1) How to beat robots that seem to increase their HP
2) Where your save file is
3) Where to get the patch updates
4) How to unlock those missing CG's
5) How to fix bugs
Edit:
Do NOT PM me
for the game. I would like to do my part to support this specific product, since I really enjoyed it. Others may also have purchased legitimate copies, but do not pester them if they made a clear point that they are not sharing it. If you are one of those desperate in need of this game for gravitational studies with your rod, Google might be able to help.
The reason why I am not sharing it is because the developers came to the site and listened to feedback. I feel that with this uncommon occurrence, I would like to, for once, support their efforts. I am not preaching that you do the same or give a damn about what I do. Just be considerate and not hassle people who are not sharing. Assuming that the readers are well over 18 years old, you should have the brain capacity to find alternatives other than PM spamming.
3/17 Edit:
An update, enhanced version has been released. However, it requires that you purchase it for full price on dlsite. Well seems like I got many people's hopes up for the game. Other than a simple sorry, I don't think I can alleviate much of the rage that is flooding this thread.
Just saw a post on ryonani.com regarding a soon to be released product by 7th Dream (makers of Poor Sakura) called Pretty Warrior May Cry. It looks like it will be a lot of fun with a bunch of fappable content. This game in particular seems pretty unique for 7th Dream, since most of their games are 3D simulators or 3D fighters. PWMC, on the other hand, looks to be like a RPG game with 3D models implemented (?). Either way, I think it is good that 7th Dream is stepping away from their comfort zone and developing something new outside their area of expertise. Another interesting note is that 7th Dream seems to be moving away from Sakura. Their most recent work features Tifa, whereas all the previous works directly or indirectly includes Sakura. But I guess after all the raping and beating Sakura's been through, she deserve a rest... or does she?
The best part from the previews, in my opinion, is the addition of Morrigan Aensland from Dark Stalkers. She, in my opinion, is the hottest video game character out there (I'm sure someone is gonna scream Tifa or Lara soon). And aside from Morrigan they have included the warrior from Dragon Quest and another video game character, which I do not recognize (I don't know either of their names). I find it a bit peculiar that they didn't include Trish in the game, since PWMC is obviously a parody of Devil May Cry. But in retrospect, I don't think I give a damn whether or not they fully capitalize the pun on DMC; I'm just glad to know that 7th Dream is coming out with a new work so quickly after their most current work. Soon meaning December, as printed on dlsite.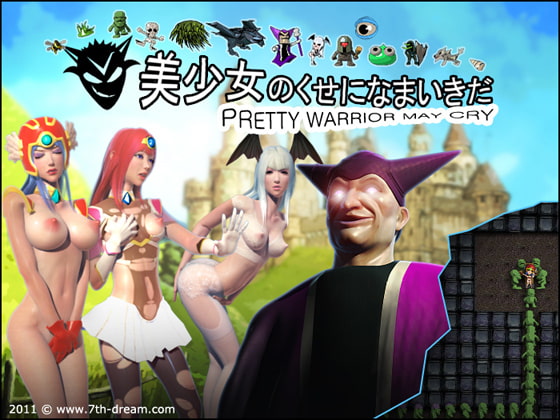 dlsite info:
http://www.dlsite.com/maniax/announc.../RJ086864.html
their website:
http://www.7th-dream.com/index2.html
Oh yeah, forget to mention: there will be tentacles. fuck yea.
DEMO: Get it from their blog.