Joined

Nov 30, 2013
Messages

744
Reputation score

332
I know many of you've been waiting for this, so here it is. Merry Christmas y'all.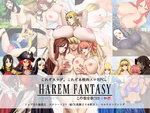 Story
:
(Taken from DLSite page description)
Tumbling into the cave, a young man who lost his memory
explores a cave guided by a crystal and joined by 3 beautiful women.

Somewhere along the way, his quest evolves from
finding his memory to saving the world......

Will he save it with good or evil......
Gameplay
:
The game plot is a harem-building adventure type scenario. You play as a male hero protagonist who can choose good or evil routes, which influence the game endings/CGs.
The gameplay is turn-based combat, which includes RPG elements such as party members, a job system, stat growth, abilities, equipment/items, and an unlockable gallery.
CGs and scenes are unlocked based on successfully achieving events in the game as well as growing your affections with your three female party members.
DLSite link
:
You must be registered to see the links
Game Thread
:
https://ulmf.org/threads/haaremufantajii-kono-wo-uha-ka-harem-fantasy-rj178610.8712/
TAGS
: Harem, Big breasts, Male Protagonist, Creampie, Pregnancy, Rape, RPG, RPGMaker, CGs, Multiple Endings
Please support the game developers by buying their game.
Here's a link to the translation patch:
You must be registered to see the links
Instructions
:
1.) Download the game.
2.) Download the patch and unzip it using 7Zip or a similar program.
3.) Copy/paste the patch data to your game directory, overwriting the original files (i.e. the data folder).
4.) Enjoy!
This game uses basic RPGMaker commands. In addition:
Q/W: Change character (worldview screen)
S: See past dialogue
Changelog:
(12/27/19) v1.02b: Translation errors/improvements (e.g. word wrapping issues, dialogue)
(12/26/19) v1.01b: Bugfixes (fixes the "Holy Strike freezing", "Steal Mechanic", "Multi-targeting/Target All spells",
"Naming party members", and others). Credit to Mattn915 and Aeternalis over at ULMF for their bugfixes.
(12/25/19) v1.00b: Translation release (beta)
Lastly, please read the READ ME file in the patch folder, as it contains my editorial notes and potential bugs/translation/changelog information.
PLEASE READ THIS BEFORE YOU COMMENT.
Thanks and happy fapping! -E.G.
Last edited: