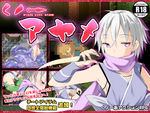 https://www.dlsite.com/ecchi-eng/work/=/product_id/RE212847.html
Sometime ago I had gotten obsessed with this game that saw as video with only the gallery translated, unable to get the original partial, which was lost in time.
So... I began to work in my own translation, that covered mainly the GUI and plot.
But now!
After a long time, I was able to get hold of the original partial that covered the all the sex events!
Honestly, I don't really know who was the original creator of the original, my best guess is some guy called "Thatguyi". Talk about confusing.
Anyway, I decided to combine the two translation and even add quite a bit more.
It's not a full translation and it will never be but, I'm somewhat determined to finish up translating the most important bits.
What is covered in his majority are the:
- GUI and Items (95%). There some bits hidden in the plugins code that where to bothersome and or unimportant.
- Sex scenes (95%) I fixed a couple of weird parts of the other guy translation but, there still some bits left out. Those are just meaningless words like Ha, Uh, Oh etc.
- Around (40-50%) of the general dialog. I focused only on the important dialog, so you will have a sure idea of what to do and the plot about.
- Not the grammar. I know there many small mistakes i will fix them eventually...maybe...someday.
I will might update one or two more times. There still need some stuff one the final dungeon left to do Im just updating it in case i lose motivation. Hahah
As a last note, please inform me if the patch even work as it's my first time doing on and about any bugs you encounter.
I shouldn't had added any but, keep in mind that the original game has a "stuck in enemy erotic attacks" and "walk over walls if using water walking" bugs that you might encounter and I'm not gonna fix as they aren't game breaking.
Last edited: