Alright, I did something wrong.
I saw the blonde girl in the pirate place once, and accidentally left the room because I'm directionally inept. Qent to a save right before she was there, only to not find her there.
Then fast forward, saved a blonde girl in the jungle.
Now I'm stuck in said jungle, trying to figure out where I need to go. I attacked my rival on the moon, but that's the lost boss I've found. I've found the asteroid field and the ice area, but where do I go? Both deal their temperature damage to me.
The guide says to kill destructables to reach the moon ground, then return into the jungle, go down right until the next "map" loads
does that mean the next room, or where the next pod is?
directly above you is the boss, go up right then into the bushes to rech him
Which room? Where?
(only with this "enter" text box you should leave the "map")
*Panicking here to the point I wound up in an asteroid field*
Kill it, rescue the "second in command"
Do you mean the brunette in tentacle animation?

One of the games where I religiously hate the jungle map.
'
I know it's the jungle, I just don't know what he meant by "Return to Jungle."
Which pod?
What exact entrances am I looking for?
I start from the pod where the moon area starts, then head right/Down, but the only ones I find are the ones that lead to more pods. I kept going even further and wound up back near the ice entrance. Went into a rage and beat the ice boss to vent my steam.
First, allways remember, the SOS has to be set right, press F to see which SOS is set at the moment. When you don´t have the right SOS just go out of the pod map and go into it again as often as it needs.
The guide just wanted you to enter the moon to get Chi 「クスィー」 The temparature dmg is probably becouse of your missfitting resistances, If you have heat resistence, you lower your cold resistence reverse visa.
When I refer to a map, it means everything within a single loading zone.
When the screen blacks out, you enter the next map.
To be truthfull I know exactly where I am within the jungle map, If you are new everything looks the same, but that changes if you search for all Items within it.
Start at the pod Chi 「クスィー」, follow the images.
When you have the older version the bush in the large step is WAY bigger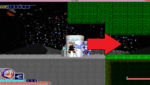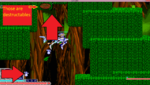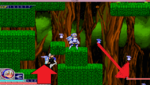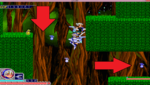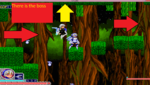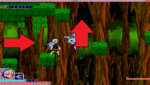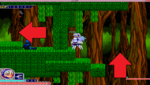 2